Meet the Ultra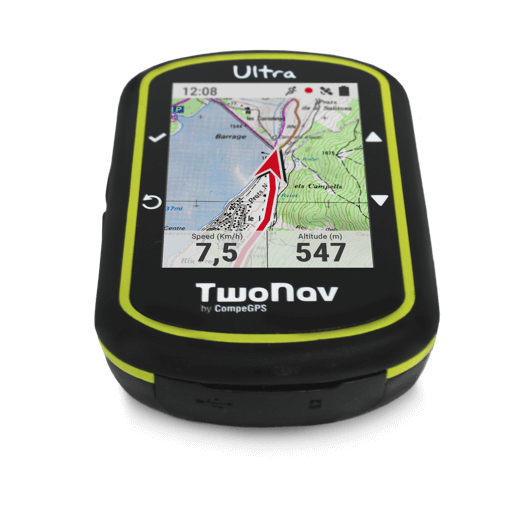 Light-weight and compact

Topographic map included

Compatible sensors

Wrist mount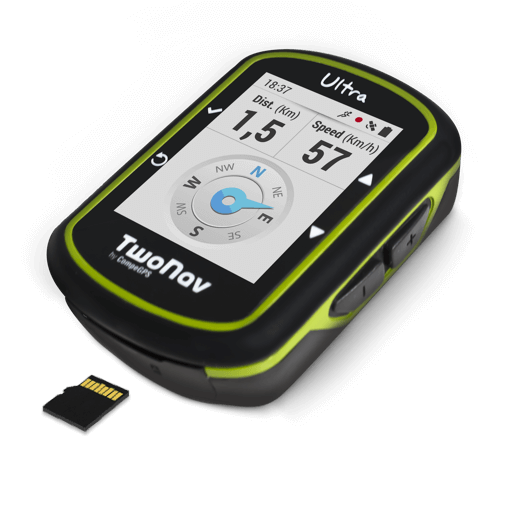 Technical Specifications
Physical characteristics
Dimensions
50 x 75 x 20 mm
Weight
100 gr
Buttons
4 side
Joystick
Water/dust/mud resistant
IP67
Resistant to extreme temperatures
-20 °C ~ 70 °C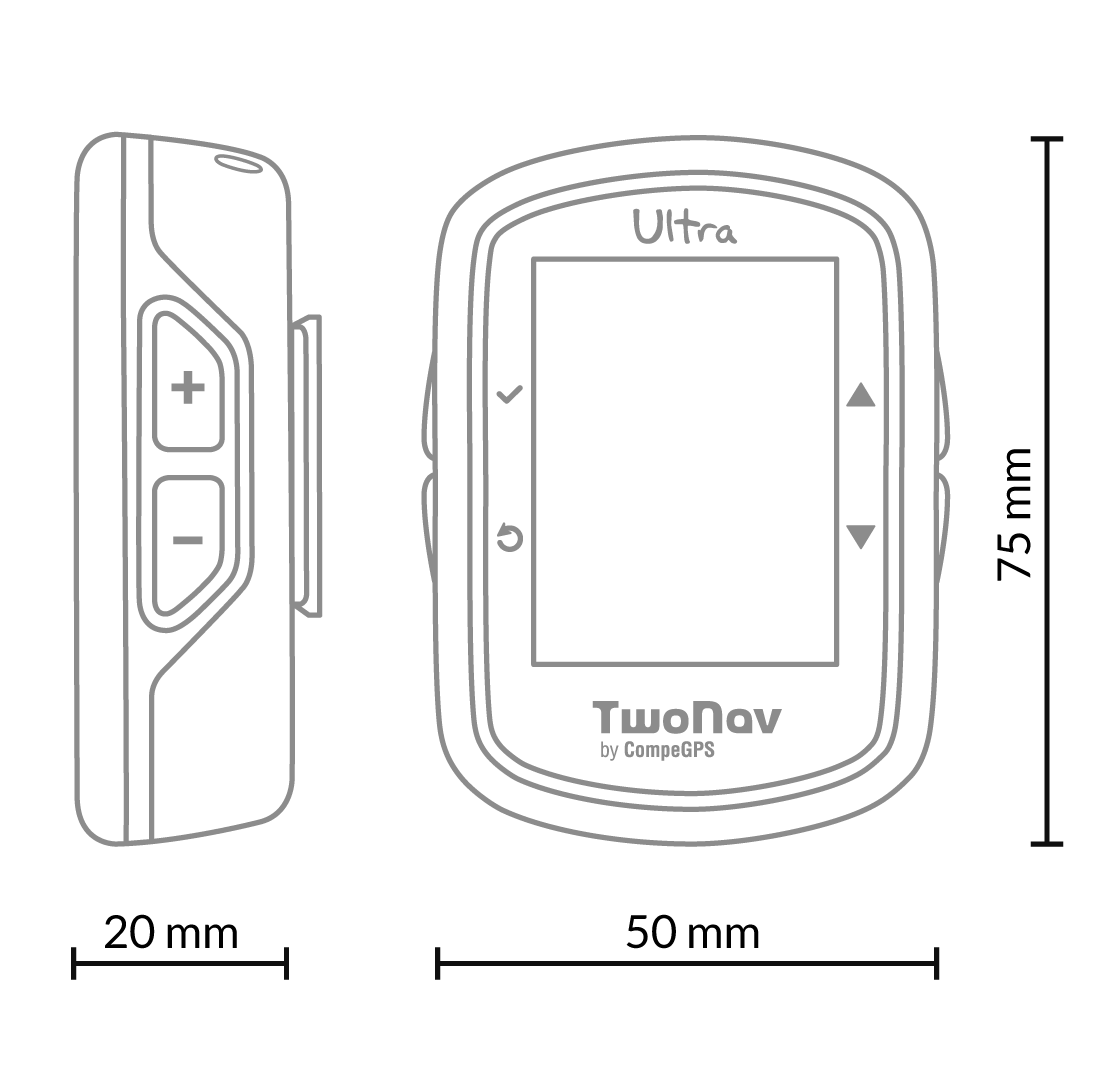 Screen
Type
Transflective
Touch
Dimensions
2''
Resolution
240 x 320 pixels
Backlight
Efficiency
GPS chip
ST Teseo II
RAM
64 MB
Internal memory
64 MB
Memory-card slot
Includes free memory card
Power supply
Light sensor
Battery capacity
1,300 mAh
Normal battery life
5 hr
Rechargeable battery
Removable battery
Optional AA batteries
Comm port
MicroUSB
Tools
GPS
Glonass
Full connect
ANT+™
Bluetooth
GPRS
Wi-Fi
Audio
Buzzer
Barometer
Digital compass
Accelerometer
Functions
Customisable sports profiles
Map overlay
3D map display
Create unlimited waypoints, routes and tracks
Download maps and routes from online providers
Advanced route editing
Calculate on-road navigation
Estimated time of arrival at destination
Workouts by time, distance, heart rate and pace
TrackAttack workouts
Estimate of calories burned
Adjustable alarms
Automatic and manual laps
Real-time altitude graphic
Over 120 real-time data fields
Customisable data pages
Customisable device buttons
Live broadcast withSeeMe™
Emergency alerts withSeeMe™
Compatible with geocaching
Compatible with e-Roadbooks
Auto-sync with the GO Cloud
Discover what Ultra has to offer
Light-weight
Practise your favourite sport with a light GPS unit that weighs under 100 gr. Ultra has a 2" transflective touch screen, visible outdoors, and four buttons designed for easy operation. All the power of TwoNav in a small, super compact device.
ANT+™ sensors
Uses ANT+™ sensors to receive information from heart rate monitors, cadence and speed sensors, etc.
Integrated Battery
Train for hours without worrying about water. With its integrated battery, you'll be able to train under downpours and water won't get inside the GPS.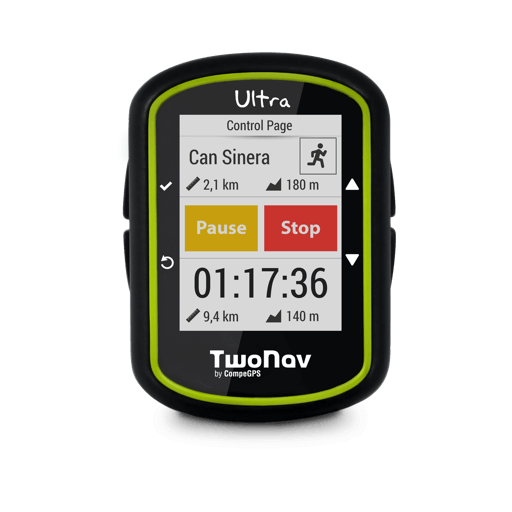 Music Player
Listen to your favourite music while working out. Ultra has a music player built right into the GPS device.
Multi-sport Accessories
Adapt Ultra to your activity with its gift accessories: for the wrist (running), for a handlebar (bikes)...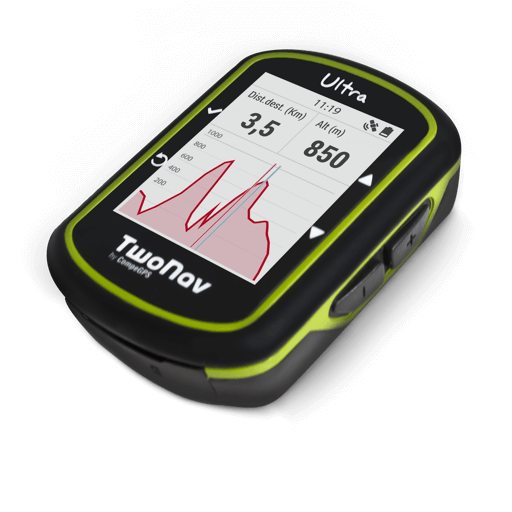 Pick your training mode
Become the complete athlete you want to be. Improve your routine workouts, or if you prefer, go all out by trying out new sports.
Train by time: Set the training time and start working out.
Train by distance: Set a goal and Ultra will let you know when you reach your target.
Train by intervals: Set two values to keep a constant pace at all times.
Plus, don't forget to use the GPS map as a reference to see where you are and what direction you want to go in. If you need to, you can load more maps into the GPS thanks to the included 8-GB microSD card.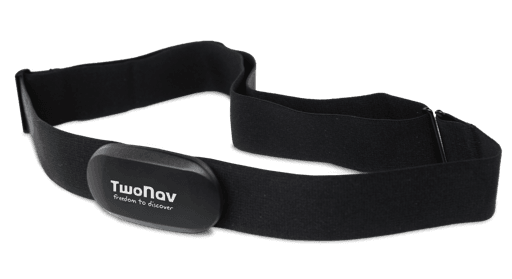 Analyse your performance with over 120 data fields.
Connect your own ANT+™ sensors and accurately track each workout in real time (heart rate, speed, cadence, etc.).
Ultra also gathers lots more data that can come in handy to monitor your effort and set new personal bests (altitude, distance, moving time, pace...).
Analyse all this information on data pages with the best selection of fields for your favourite sport.
Other Key Features
See your current altitude or your accumulated ascent in graphs
Tap one of the buttons to create a highlighted waypoint on the route
Estimate the calories burned on your last workout
Adjust the screen backlight to night-time conditions with night mode
Change the functions of the GPS buttons according to your needs
Efficiently manage battery life with different power modes
Share your workout on GO and Strava™
After your workout, upload your last activity to the GO Cloud. From GO you can manage your tracks and the history of all your activities. Make full use of GO's potential to analyse and compare the results of your workouts.
You can also share your workouts with the Strava™ community and stay connected to other athletes.
More than a GPS
Included in the purchase
MicroSD card (8 GB)
Bicycle mount (stem)
Wrist mount
Wrist strap with pointer
Wall charger
USB-MicroUSB cable
TwoNav Premium app (Android/iOS)
Land Standard software (Windows/Mac)
50% off on Land Premium software
Personal area in the GO Cloud
A GPS device designed for you

"Ultra proves that good things really do come in small packages"

"Ultra represents a commitment to the future and sets an example for other manufacturers of outdoor equipment to follow"

"Ultra is a truly small terminal with all the potential you can imagine"