Meet Aventura Motor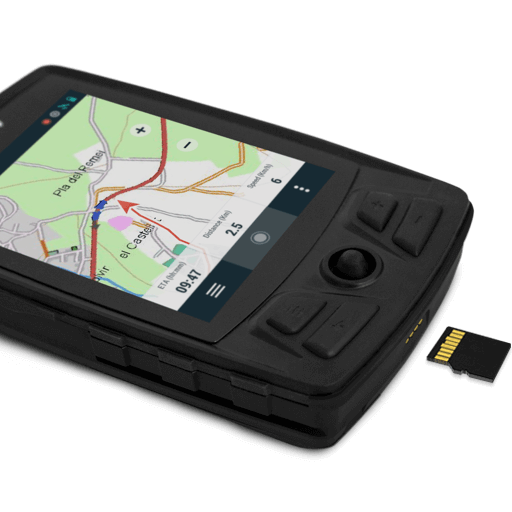 High-resolution screen

Cradle with USB charging cable

Road + topographic maps included

Moto/quad mount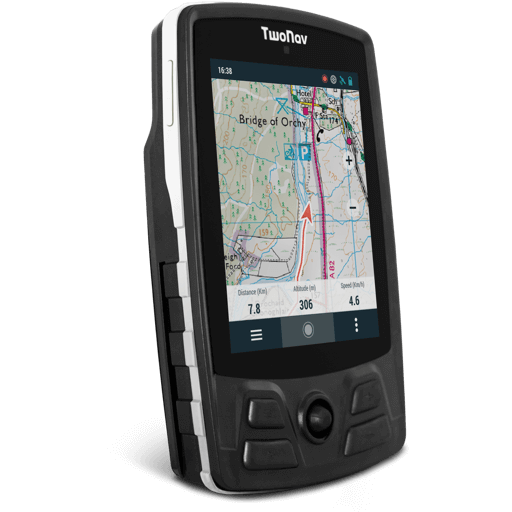 Technical Specifications
Physical characteristics
Dimensions
80 x 130 x 28 mm
Weight
250 gr
Buttons
4 front + 2 side
Joystick
Water/dust/mud resistant
IP67
Resistant to extreme temperatures
-10 ºC ~ 50 ºC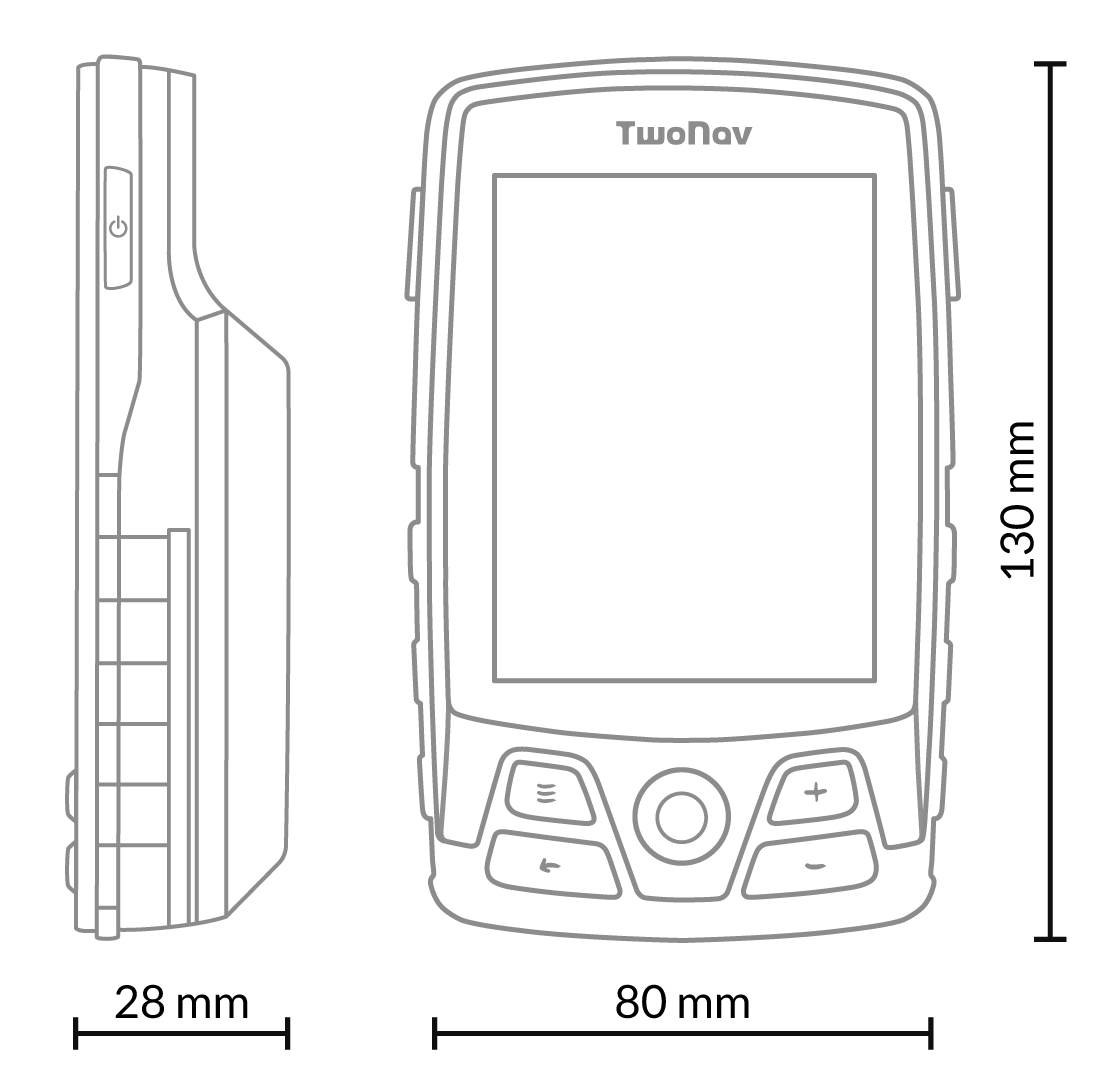 Screen
Type
Blanview / Resistive
Touch
Dimensions
3.7''
Resolution
480 x 640 pixels
Backlight
Efficiency
GPS chip
SE 880
RAM
2 GB
Internal memory
16 GB (free: 12 GB)
Memory-card slot
Power supply
Light sensor
Battery capacity
5000 mAh
Normal battery life
24 hr
Rechargeable battery
Removable battery
Optional AA batteries
Comm port
MicroUSB
Tools
GPS
Glonass
Full connect
ANT+™
Bluetooth
GPRS
Wi-Fi
Audio
Speaker
Barometer
Digital compass
Accelerometer
Functions
Customisable sports profiles
Map overlay
3D map display
Create unlimited waypoints, routes and tracks
Download maps and routes from online providers
Advanced route editing
Calculate on-road navigation
Estimated time of arrival at destination
Workouts by time, distance, heart rate and pace
TrackAttack workouts
Estimate of calories burned
Adjustable alarms
Automatic and manual laps
Real-time altitude graphic
Over 120 real-time data fields
Customisable data pages
Customisable device buttons
Live broadcast with SeeMe™
Emergency alerts with SeeMe™
Compatible with geocaching
Compatible with e-Roadbooks
Auto-sync with the GO Cloud
Discover what Aventura Motor has to offer
Navigation device for motor vehicles
Enjoy Aventura Motor all week long: Use it daily in your car for city driving, and then on weekends in your 4X4, quad or motocross for the most extreme experiences. With the included free Ram Mount, you'll be able to put the GPS wherever it suits you most. Its physical features make it easy to adapt for use in cars, 4X4, bikes and quads.
Large display
Drive your car, 4x4, bike or quad without straining your eyes. See the instructions on the Aventura Motor easily thanks to its high resolution, 3.7" display. Easy to operate with its intuitive and smooth interface.
Robust GPS
Venture into the desert or into the deepest jungles without worrying if the GPS is tough enough. Aventura Motor can stand up to the hardest knocks and splashes typical of any outdoor activity.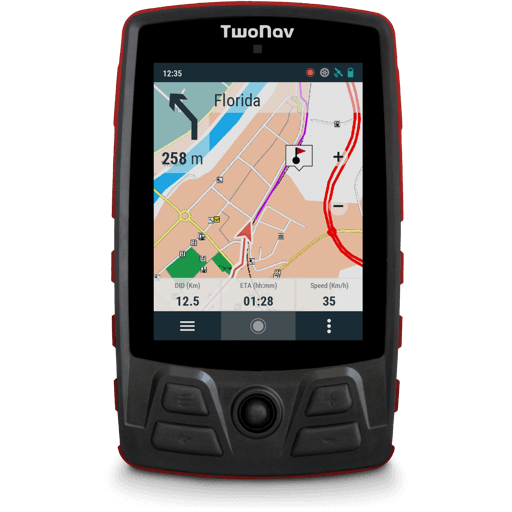 SeeMe™ Service
Broadcast your location live through the SIM card in the GPS. Your fellow adventurers will see a track of your route and know where you're headed. If you want, you can meet up at a certain point and finish the adventure together.
Free updates
With our periodic updates of the GPS software and new features, it's like getting a new GPS. Connect it to your Wi-Fi network and update it over the air.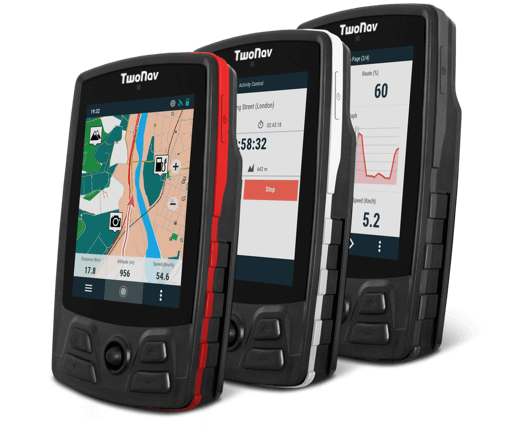 Combine driving on the road with off-road activities.
Aventura Motor includes two map types on the same device: topographic and road (TomTom). The GPS will automatically open the map that is best suited to the terrain you're driving through. Get the most from your outdoor adventures with the best combination of maps:
Select the shortest and fastest route: Pick your destination and Aventura Motor will calculate the path to take to avoid tolls and back roads.
Follow the voice instructions: Get turn-by-turn instructions that will guide you to your destination safely without having to take your eyes off the road.
Go off road and into other terrains: If you're into 4x4, quad or motocross, zoom in on the topographic map to find alternate routes (tracks, paths, shortcuts, dunes...). Avoid risks by seeing the lay of the land and any obstacles.
Plus, if you have your own maps or are planning to visit other countries, you can use the microSD slot on the GPS to add more maps to the device.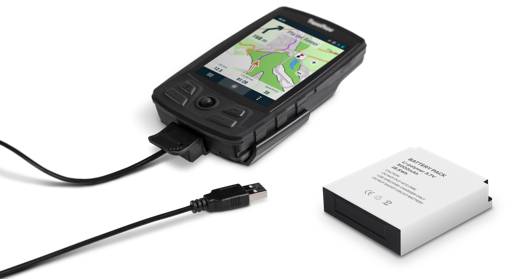 Guaranteed range: Travel for days without limits
With Aventura Motor, you'll be able to travel all over for days and weeks without having to worry about the battery, since the GPS offers several options to extend its 24-hour battery life.
If you're planning a short weekend outing, take an extra battery along. Aventura Motor has a replaceable battery so you can double the battery life.
If you're planning to use Aventura Motor in your car, you can use the cradle with charging cable included at no extra charge to power the GPS while you drive. Simply connect the device to the USB plug or cigarette lighter.
Other Key Features
Calculate your estimated time arrival before you leave home
Check a collection of points of interest (POIs) with rest areas, restaurants, hotels, population centres and more
Track over 120 data fields in real time (speed, distance travelled, altitude, etc.)
Briefly create a waypoint for any location you want to highlight
Adjust the screen brightness for night-time driving with night mode
Stay up to date on the latest radar locations
Update the radar locations in your area in just a few seconds with the Land Standard computer software (Windows/Mac) included free with Aventura Motor.
Plus, with Land Standard you can plan your next routes accurately and precisely from the comfort of your own home. Your routes will be automatically uploaded to the GO Cloud so you can download each day's stage even if you're in another country.
More than a GPS
Included in the purchase
SIM card
6 free months of SeeMe™
Battery
Rear cover
Moto/Quad mount (Ram Mount™)
Cradle with charging cable
USB-MicroUSB cable
TwoNav Premium app (Android/iOS)
Land Standard software
50% off on Land Premium software
Personal area in the GO Cloud
Comparison

New-generation sat nav with features and accessories specific for driving activities. Equipped with a large display that lets you see maps while driving, even in dusty or muddy conditions. Features a speaker for turn-by-turn voice instructions.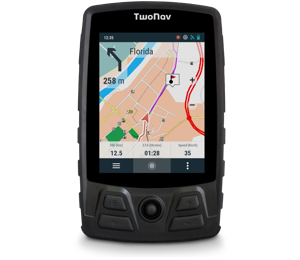 Specifically created for mountaineering or other extreme, long-duration hiking activities. A tough GPS built to withstand the most extreme weather conditions. Features a 3.7-inch screen to display road or topographic maps, depending on the type of route.