Meet Aventura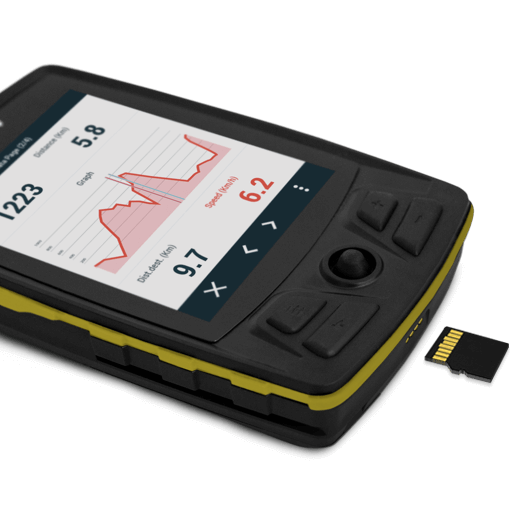 High-resolution screen

Swappable batteries

Road + topographic map included

Compatible sensors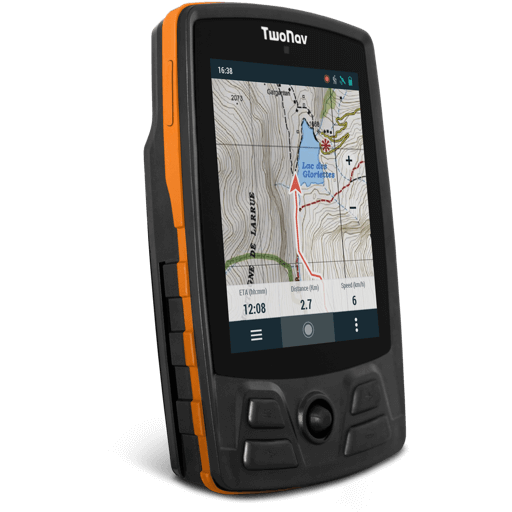 Technical Specifications
Physical characteristics
Dimensions
80 x 130 x 28 mm
Weight
250 gr
Buttons
4 front + 2 side
Joystick
Water/dust/mud resistant
IP67
Resistant to extreme temperatures
-10 ºC ~ 50 ºC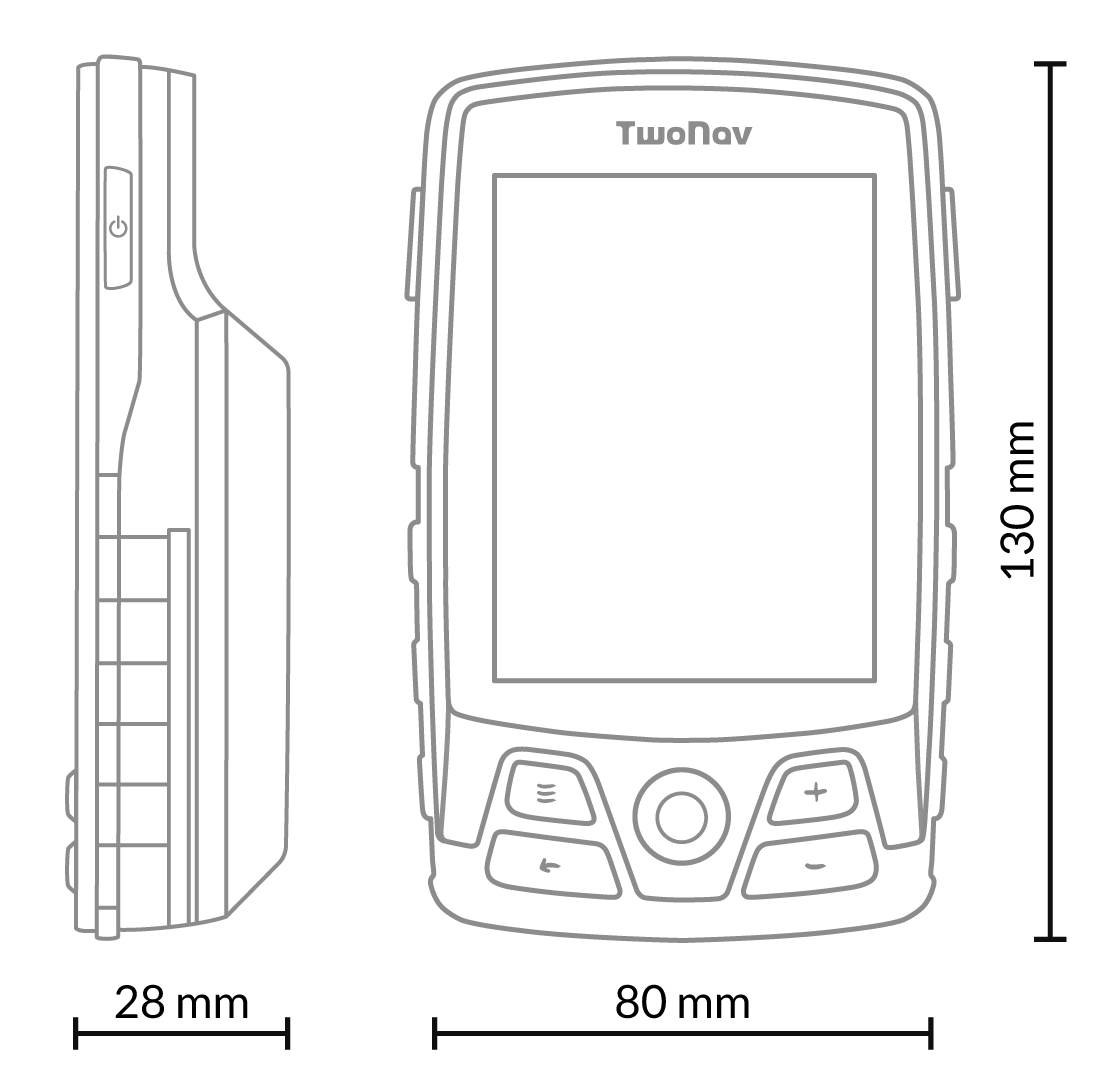 Screen
Type
Blanview / Resistive
Touch
Dimensions
3.7''
Resolution
480 x 640 pixels
Backlight
Efficiency
GPS chip
SE 880
RAM
2 GB
Internal memory
16 GB (free: 12 GB)
Memory-card slot
Power supply
Light sensor
Battery capacity
5000 mAh
Normal battery life
24 hr
Rechargeable battery
Removable battery
Optional AA batteries
Comm port
MicroUSB
Tools
GPS
Glonass
Full connect
ANT+™
Bluetooth
GPRS
Wi-Fi
Audio
Speaker
Barometer
Digital compass
Accelerometer
Functions
Customisable sports profiles
Map overlay
3D map display
Create unlimited waypoints, routes and tracks
Download maps and routes from online providers
Advanced route editing
Calculate on-road navigation
Estimated time of arrival at destination
Workouts by time, distance, heart rate and pace
TrackAttack workouts
Estimate of calories burned
Adjustable alarms
Automatic and manual laps
Real-time altitude graphic
Over 120 real-time data fields
Customisable data pages
Customisable device buttons
Live broadcast with SeeMe™
Emergency alerts with SeeMe™
Compatible with geocaching
Compatible with e-Roadbooks
Auto-sync with the GO Cloud
Discover what Aventura has to offer
Resistant to extreme temperatures
Explore any area of the planet, from the highest peaks to places with extreme temperatures. Aventura is an all-terrain sports GPS created to withstand temperatures as low as -10ºC. It's also shock, water and splash resistant. Its 3.7" blanview screen offers excellent visibility, even in direct sunlight or if you're wearing protective glasses. Maximum reliability for practising the most extreme mountaineering.
Worldwide coverage
Travel in unknown terrain safe in the knowledge that you won't get lost. Aventura will quickly lock in on the satellite signal and once underway, the TwoNav software will calculate your route in real time. Get accurate readings wherever you are.
Easy to use with gloves.
Operate the GPS easily with gloves or other types of protection. Interact with the device without having to touch the screen thanks to its 4 front buttons, 2 side buttons and the built-in joystick.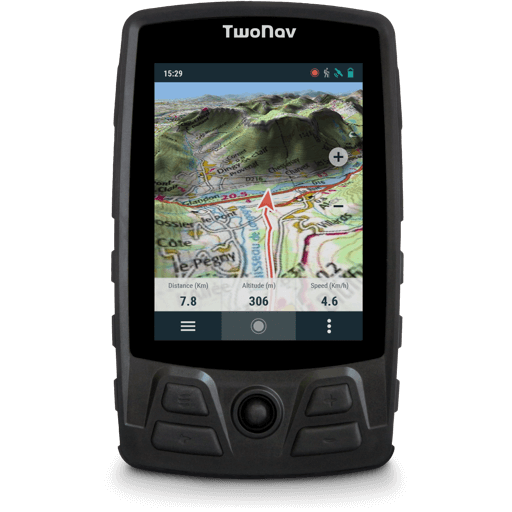 SeeMe™ Service
Broadcast your activity live, even if you're on the other side of the world. Your friends and family will know where you are and where you're headed at all times. Aventura will send your location in real time without the need for internet or a smartphone.
Free updates
With our periodic updates of the GPS software and new features, it's like getting a new GPS. Connect it to your Wi-Fi network and update it over the air.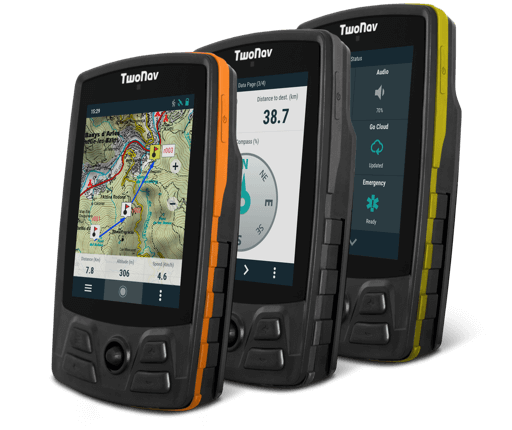 Travel in any terrain
Aventura includes both topographic and road maps that you can use based on the situation you're in: on-road or off-road.
Get your bearings at the highest summits: Choose your own path while tracking your location in real time on the topographic map.
Create waypoints as needed: Mark waypoints on the map to highlight important spots (base camp, summit, dangerous area...). Or if you prefer, transfer your own waypoints to the GPS.
Move around in unknown cities without getting lost: Use Aventura as an in-car navigation device no matter where you are. The voice instructions for the TomTom map will tell you which way to go. When you're back in your own country, use it as your everyday navigation device.
Expand the Aventura's storage capacity with a microSD card that you can use to transfer maps of other countries or maps recommended by friends.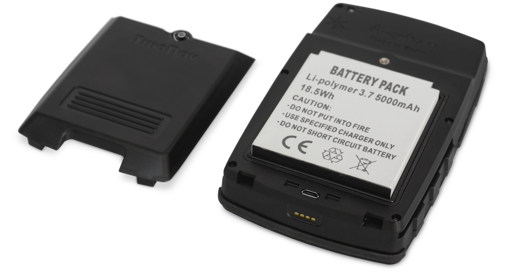 Unlimited freedom for your extreme challenges
Aventura is guaranteed to keep running non-stop for 24 hours. Its great battery life makes it ideal for long-duration activities like professional mountaineering, trekking or climbing.
Aventura also features a removable battery that you can replace with a spare at any time. Recharge the device every night when you get to your shelter or hotel. Take it with you, in a rucksack or bag, and your GPS will be ready to go for the next day's stage. Maximum battery life wherever you are.
Other Key Features
Automatically opens the map that's best suited to the activity you're going to do
Connect ANT+/BLE sensors to measure your heart rate during the activity
Set up an alarm to alert you if you stray off your planned course
Press any point on the map to see its coordinates, altitude, the distance to the point and more
Change the route for the next stage by moving the waypoints. No computer needed
Rate your outings by difficulty level (easy, moderate, hard)
Plan every step of your adventure with Land Standard
Before setting off on your journey, plan each stage from the comfort of home with the Land Standard software (Windows/Mac). Land Standard is included free with Aventura. It will let you complement your outings with waypoints, photos and other interesting stats. With Land Standard you can plan where to sleep every night and what places to visit using the same maps you'll use in Aventura.
When you finish prepping, upload the routes to the GO Cloud, where they'll be accessible from anywhere on Earth. Once in your destination country, stay self-sufficient and forget about computers. Just connect the Aventura to a Wi-Fi network and download that day's route.
Comparison

Specifically created for mountaineering or other extreme, long-duration hiking activities. A tough GPS built to withstand the most extreme weather conditions. Features a 3.7-inch screen to display road or topographic maps, depending on the type of route.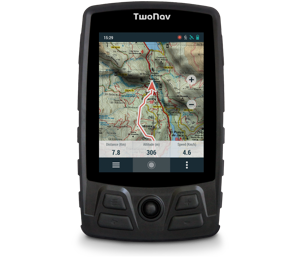 New-generation sat nav with features and accessories specific for driving activities. Equipped with a large display that lets you see maps while driving, even in dusty or muddy conditions. Features a speaker for turn-by-turn voice instructions.