Meet Anima+
Optional AA batteries

Topographic map included

Compatible sensors

Stem mount
Technical Specifications
Physical characteristics
Dimensions
65 x 110 x 23 mm
Weight
145 gr
Buttons
2 front + 2 side
Joystick
Water/dust/mud resistant
IPX7
Resistant to extreme temperatures
-20 °C ~ 70 °C
Screen
Type
Transflective
Touch
Dimensions
3''
Resolution
240 x 400 pixels
Backlight
Efficiency
GPS chip
UBLOX Max-7Q
RAM
128 MB
Internal memory
4 GB
Memory-card slot
Power supply
Light sensor
Battery capacity
1,430 mAh
Normal battery life
12 hr
Rechargeable battery
Removable battery
Optional AA batteries
Comm port
MicroUSB
Tools
GPS
Glonass
Full connect
ANT+™
Bluetooth
GPRS
Wi-Fi
Audio
Speaker
Barometer
Digital compass
Accelerometer
Functions
Customisable sports profiles
Map overlay
3D map display
Create unlimited waypoints, routes and tracks
Download maps and routes from online providers
Advanced route editing
Calculate on-road navigation
Estimated time of arrival at destination
Workouts by time, distance, heart rate and pace
TrackAttack workouts
Estimate of calories burned
Adjustable alarms
Automatic and manual laps
Real-time altitude graphic
Over 120 real-time data fields
Customisable data pages
Customisable device buttons
Live broadcast with SeeMe™
Emergency alerts with SeeMe™
Compatible with geocaching
Compatible with e-Roadbooks
Auto-sync with the GO Cloud
Discover what Anima+ has to offer
Data and Orientation
Combine road cycling and MTB in the same GPS unit Anima+ covers the multiple needs of the different kinds of cycling: data (road cycling) and orientation (MTB). Select your type of cycling and Anima+ will adjust its settings accordingly. You just have to focus on your riding.
ANT+™ sensors
Record your current heart rate, pedalling cadence and speed by connecting your own sensors. Anima+ is compatible with ANT+™ technology. You can also get them included with the Anima+ when you buy it.
Tough
Don't worry about the sun, high temperature, rain and mud. Anima+ features a transflective display that withstands impacts and extreme conditions.
4 buttons
Operate the GPS easily, even when riding a bike. Use the two front and side buttons to interact with the device without having to touch the display.
Long battery life
Ride non-stop for 12 hours. For even longer rides, extend the battery life of Anima+ with a removable spare battery or with regular batteries you can buy anywhere.
Train Safely on the Road
If you ride on roads, Anima+ will help you set new records with each workout. Forget about your previous results and discover a new way to train.
Train by distance: Set a goal and Anima+ will let you know when you reach your target.
Train by time: Set the training time and start pedalling.
Set laps: Analyse your performance by creating laps manually. Improve your results on your next ride.
Check the altitude of your location: See the Anima+ graphs to see your altitude on mountain passes.
Practise extreme MTB
If you're into mountain biking, select a route you ride regularly and transfer it to Anima+. You can also load routes downloaded from the internet or recommended by friends.
Transfer maps in multiple formats: *.CDEM, *.COSM, *.CWMS, *.ECW, *.IMP, *.KML, *.KMZ, *.MPVF, *.RMAP, *.RTMP, *.VMAP, *.WGOM...
Use the map to guide you: Anima+ includes several maps of your country. Use them to see your position on the map at all times.
Set the off-course alarm: If you deviate from the planned route, Anima+ will warn you so you can get back on track.
Mark waypoints without interrupting the navigation: Create waypoints for important spots (supplies, required checkpoints, finish line, etc.).
Other Key Features
Automatically opens the map that's best suited to the activity you're going to do
Estimate the calories burned on your last workout
Pause your activity or change goals at any time
Play a simulation of the route you just rode as soon as you finish
Calculate the route back home once you finish the activity
Multiply the storage capacity of Anima+ with a microSD card
Discover the potential of GO and Strava™
When you get home store all the data from your last ride in the GO Cloud. Connect to the GO portal and analyse the ride you just finished in greater detail. Compare it to other rides and check your progress. Improve your results with GO.
After analysing it, share your route with friends and other athletes on one of the world's largest cycling communities: Strava™.
More than a GPS
Included in the purchase
Battery
Bicycle mount (stem)
Device cradle
Wall charger
USB-MicroUSB cable
TwoNav Premium app (Android/iOS)
Land Standard software (Windows/Mac)
50% off on Land Premium software
Personal area in the GO Cloud
Comparison

Whatever kind of biking you're into, with Anima+ you'll be able to improve the results of your rides with a single device. Monitor your performance data in real time by connecting ANT+™ sensors. Shock and water resistant.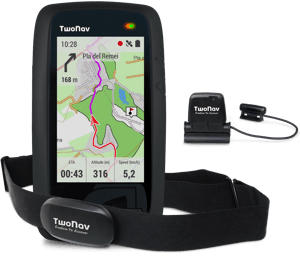 Anima is intended for all types of mountain activities (hiking, climbing, MTB, enduro, downhill, cross country...). Features precision orientation, ease of use, long battery life and weather resistance.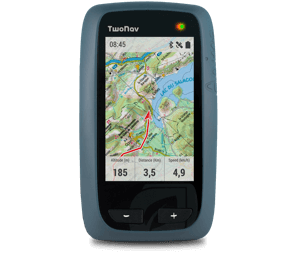 A GPS device designed for you
"Anima+, versatility and toughness in a small package (...) Great down to the smallest detail. Its feel and ergonomics make it easy to hold without any problems"
"Anima+ lets you connect any compatible ANT+™ sensor so you can get speed, cadence and heart rate data in real time"
"A model that combines a wide range of features in a small, ergonomic package, making it an exceptionally versatile tool"