The best tools for your mountain outings
Go on long outings without worrying about having to recharge the GPS (up to 12 hours). If you need to have even more power on tap, replace the battery with normal batteries you can buy in any store. Go out even on rainy days under extreme conditions. Its transflective display is resistant to dust, water and mud.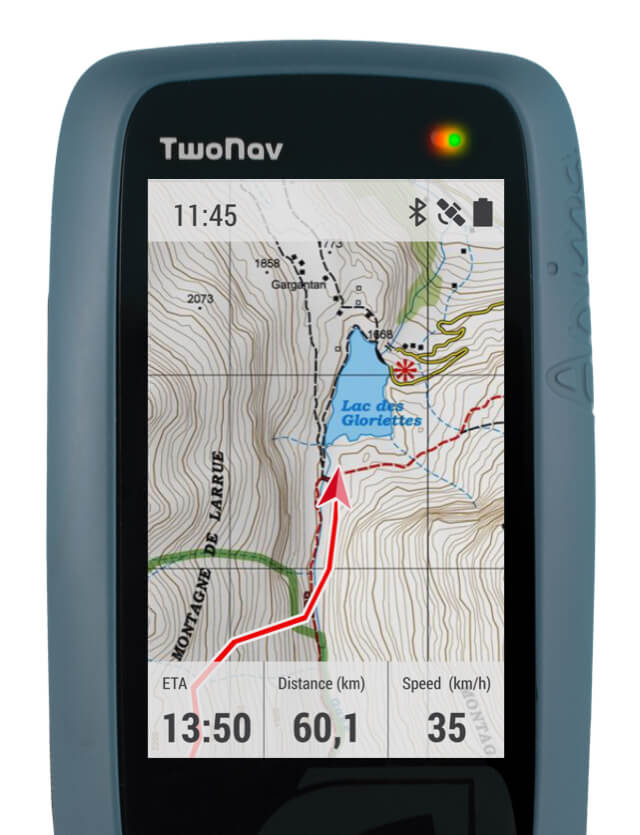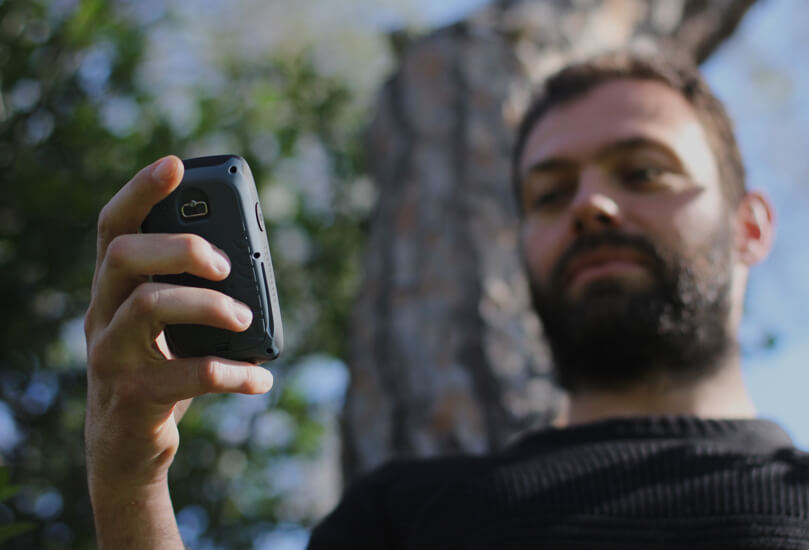 Go farther
Calculate the shortest route to reach your destination, navigate a pre-loaded route, follow a set of waypoints or move following the instructions in a digital roadbook. You can pause an activity or change destinations as desired.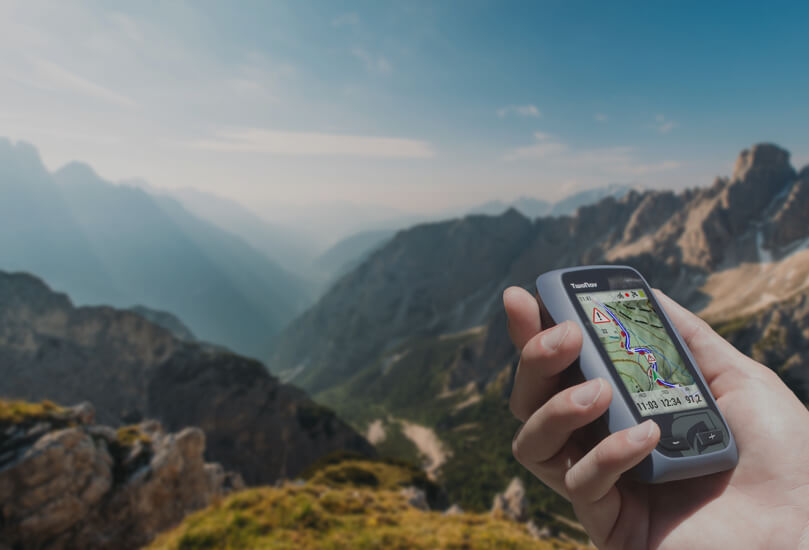 Intuitive and safe orientation
Use the topographic map included in Anima as a reference to check the lay of the land and avoid risks. Analyse the recorded route on the map and decide how far you want to go.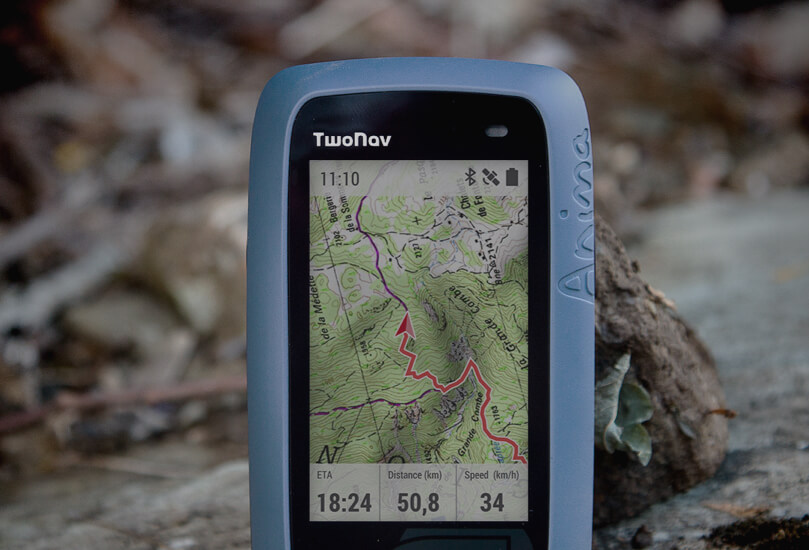 Multiple maps
Open different maps of the same area simultaneously and overlap them to combine all their information. If you have your own maps, use the microSD slot on the Anima and display them on the device.
More than just a GPS
A device connected to an ecosystem that offers you all that you need at all times. Prepare your routes with Land, experience them with TwoNav and stay connected through the GO Cloud.
Technical Specifications
Physical characteristics
Dimensions
65 x 110 x 23 mm
Weight
145 gr
Buttons
2 front + 2 side
Joystick
Water/dust/mud resistant
IPX7
Resistant to extreme temperatures
-20 °C ~ 70 °C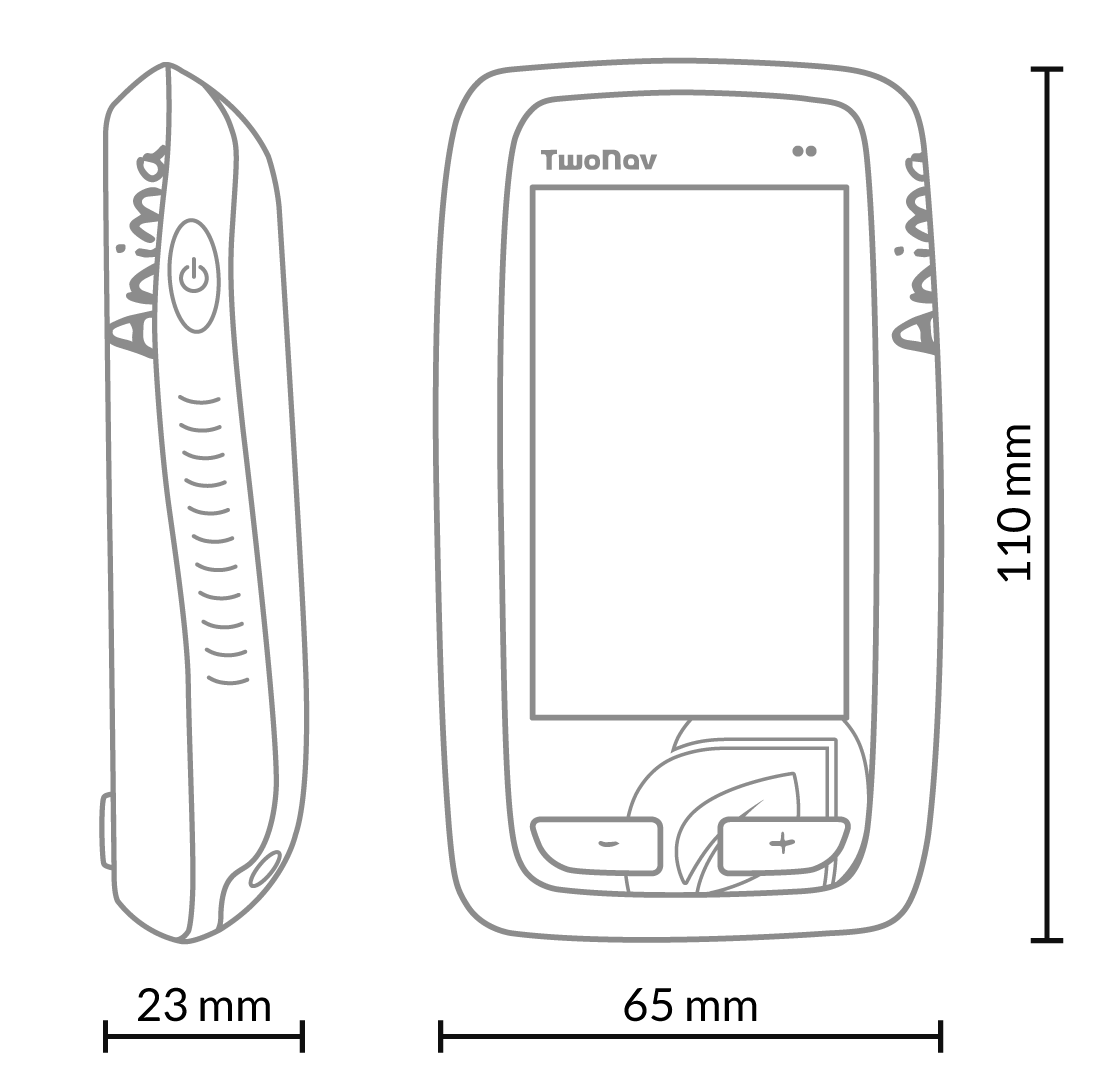 Screen
Type
Transflective
Touch
Dimensions
240 x 400 pixels
Resolution
3''
Backlight
Efficiency
GPS chip
UBLOX Max-7Q
RAM
128 MB
Internal memory
4 GB
Memory-card slot
Power supply
Light sensor
Battery capacity
1,430 mAh
Normal battery life
12 hr
Rechargeable battery
Removable battery
Optional AA batteries
Comm port
MicroUSB
Tools
Full connect
ANT+™
Bluetooth
GPRS
Wi-Fi
Audio
Speaker
Barometer
Digital compass
Accelerometer
Functions
Customisable sports profiles
Map overlay
3D map display
Create unlimited waypoints, routes and tracks
Download maps and routes from online providers
Advanced route editing
Calculate on-road navigation
Estimated time of arrival at destination
Workouts by time, distance, heart rate and pace
TrackAttack workouts
Estimate of calories burned
Adjustable alarms
Automatic and manual laps
Real-time altitude graphic
Over 120 real-time data fields
Customisable data pages
Customisable device buttons
Live broadcast with SeeMe™
Emergency alerts with SeeMe™
Compatible with geocaching
Compatible with e-Roadbooks
Auto-sync with the GO Cloud
What's included
Battery
Bicycle mount (stem)
Device cradle
Wall charger
USB-MicroUSB cable
TwoNav Premium app (Android/iOS)
Land Standard software (Windows/Mac)
50% off on Land Premium software
Personal area in the GO Cloud
Compare our full line of hiking GPS